Purchase premium diamond melee at industry-leading prices with excellent service
HASSLE-FREE RETURNS

NO MINIMUM ORDER

INDUSTRY-LEADING PRICING

BUY EXACT MM SIZES

CONSISTENT ASSORTMENTS

NEXT DAY dELIVERY
melee ON DEMAND
current PRICING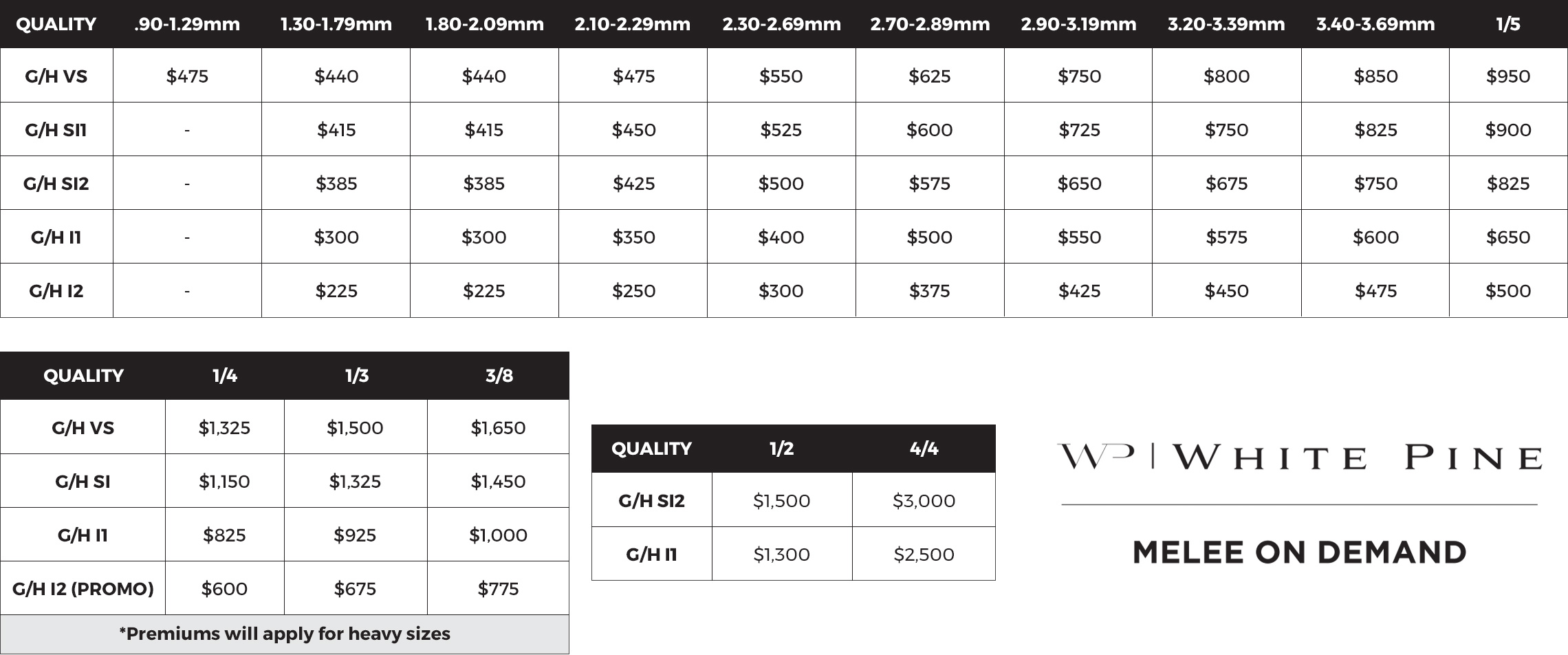 PRICING EFFECTIVE AS OF OCTOBER 2017, VALID THROUGH DECEMBER 2017. NO MINIMUM ORDER REQUIREMENT. ROUND CUTS ONLY. PRICES LISTED PER CARAT. 30 DAY TERMS, PENDING CREDIT APPROVAL.
why white pine?
flexible
We do not feel that retailers should pay for diamonds they cannot use. Melee on Demand sells by straight MM sizes. We have no restrictions on rejection, no minimum order requirements and hassle-free returns on all orders. Order as much or as little as you need and keep only what works for you.
transparent
Honesty is everything. Unlike our competition, we publish and distribute a fully transparent price sheet within the industry. What you see is what you pay. We do not discount – All our customers pay the same price per carat, no matter how large or how small the order.
reliable
We have what you need. As one of the largest aggregators of melee in the world, we have a massive in-stock inventory available at your disposal. Orders are delivered same or next-day. Several manufacturers already rely exclusively on Melee on Demand's large inventory volumes for their production needs.
Trustworthy
White Pine is recognized as one of the world's leading diamond and jewelry companies. We are a global organization, with offices in the US, UK and Japan and over 75 employees worldwide. We received full accreditation from the Better Business Bureau and are members of more than 10 industry organizations.
upcoming events
There are no events
scheduled at this time.
Please check back soon!
meet the team
Madison Moose-Barrington
Sales Manager
Madison joined White Pine in 2017, as the first Melee on Demand employee, with a background in retail, fashion, and creative management, and a minor in supply chain economics. Madison oversees all day-to-day transactions and marketing initiatives for Melee on Demand.
connect with madison
Courtney Carter
Director
Courtney has worked in the jewelry and luxury goods industry for nearly a decade, with particular focus on sales and auction strategies. Courtney joined White Pine's Diamond Auction team in 2014, and spent several years trading diamonds in the global marketplace before launching Melee on Demand.  She is responsible for the creation, execution and operation of the Melee On Demand service, in its entirety.
connect with courtney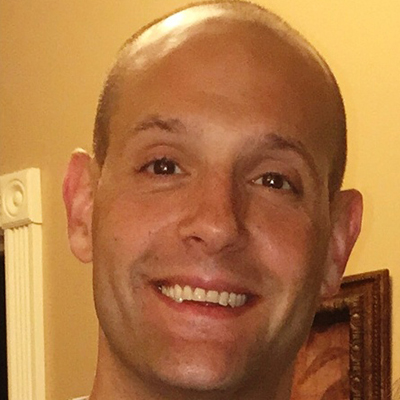 Myles Schakler
VP, Diamond Sales
Myles has over 20 years of industry experience at the Executive Level and has an extensive background in the global diamond trading sector. Previously, he worked for the Rapaport Group where he created the Rapaport Auctions trading platform, now the largest in the world. He joined White Pine in 2012, where is is responsible for the growth and success of its diamond trading divisions, including Melee on Demand.
connect with myles
Blog updates
January 09, 2018

Melee on Demand | The Alt-Bridal Trend

With the rise of millennials came the rise of alternative and quirky bridal trends, jewelry included Alternative bridal designs offer a certain uniqueness that is appealing to young consumers These brides no longer want a 2 carat engagement ring In fact, some don't want a diamond at...

read more
December 19, 2017

Melee on Demand | Pantone Color of the Year: Ultra Violet

2018 PANTONE COLOR OF THE YEAR: Ultra Violet The color of the year may not seem that important to you right now, but as we move forward into 2018 you will begin to notice this Ultra Violet color in your favorite fashion trends, home decor, and even jewelry It may not take form in...

read more
December 05, 2017

Using the Melee Market to your Advantage

Getting to know the Melee Market Diamonds have been 'traded' for hundreds of years In the early days, transactions were informal and not influenced by anything other than the buyer's desire for the stone However, industry stakeholders quickly realized that there was money to be made...

read more
view all